By Nicole Carter | Contributing Fashion Blogger.
Author Marja Norris.
###
Marja Norris is the CEO and Founder of MarjaNorris.com, a company dedicated to helping women achieve their career goals with style and confidence. With a distinguished career in finance, Marja has successfully navigated the male-dominated business world. Working her way up from an entry-level assistant to a Senior Vice President, she draws on her three decades of experience in the corporate world to empower women to pursue their highest goals and blossom into everything they can be.
A Top 100 Barron's Woman Advisor and graduate of the Parsons New School in Manhattan in summer intense fashion design, Marja has studied under the finest fashion designer professors in the world. Combining this experience with her role as a contributing author to the bestselling book Hot Mama in (High) Heels, Marja is passionate about coaching women on projecting their best professional selves. With the publication of her latest book, The Unspoken Code: A Businesswoman's No-Nonsense Guide to Making It in the Corporate World, Marja's mission is to provide women with the tools to successfully navigate the workplace through heightened confidence, excellent communication skills, and dressing the part to achieve career success.
Marja is an alumnus of the board of directors for Haven for victims of domestic violence and is a supporter of the Multiple Myeloma Research Foundation. A portion of all profits from book proceeds are donated to Haven and MMRF. She lives in Michigan with her husband Jerry and is a mother to two adult children.
…
I took a few moments out Marja's very hectic schedule to ask her some "Haute" and probing questions about her latest book and her fashion savvy.
Q. What was the pinnacle moment when you knew you had to write this book?
A. Observing executive women. For me, over my 30 years in a male-dominated business world, it wasn't difficult to see the differences in the women who made it and the ones who failed. Seeing how slow the gauge has been in the corporate world, I knew I had to write what I knew. I did a tremendous amount of research and interviewed top executives across the country, many here in metro Detroit.
Q. Where were you born?
A.  I was Born and raised in Detroit.
Q. Who exactly did you write this book for?
A. For all businesswomen; in particular, younger women just entering business, or those stuck and frustrated within the corporate world.
Q. What are the top 3 takeaways you want readers to gain? What do you wish millennials knew about being a woman in business?
A.  I have four…
 You have more power than you think.
 Learn how to work with alpha personalities from the get-go as the higher up you go, the more you'll encounter.
 You are your own walking business card! Make it a tremendous and lasting professional impression.
 Take a Dale Carnegie or Toast Masters classes. They'll get you out of your self and puts your attention on whose across from you. The book 'How to Make Friends and Influence People' from the 1940's is still a best seller today.
Q. How long did it take you to complete this project?
A.  Five years, I did this away from my career job. So weekends and evenings. Sooo many edits!
Q. Fall is here, what are your Fall must-haves for every woman in business?
A. A car coat over a white crisp shirt and slacks, heavier material sheath dress with coordinating blazer, tights and boots or a fashionable three inch heel or under.
Q. Can you share how and what your wardrobe for work travel is?
A. Travelers today need a carry-on only-why waste time with waiting for luggage? I select a blazer over a sheath dress. I wear the heavier shoe for travel along with my coat and pack other sheath dresses and a change of matching shoes. I add a light pair of sneakers and work out gear along with a preset minimal makeup bag and PJ's and I am good to go.
Q. Who are your three favorite designers?
A. Tahari, BCBG, and Rag & Bone. For the super conservative, go with Nina McLemore clothing-she dresses some of the most influential women in the country.
Q. What's next for Marja?
A. To get back to cardio, seeing friends and continuing to lift women up wherever I can.
Q. Where is your book available?
A. Amazon, Barnes and Noble, Books a Million and others as well. I am an Amazon Best Seller, thanks to many of you.
 Parting Words.
"It's extremely important to look current yet professional."
The key is to mix one item of fashion to work clothes. Here are my fall/winter recommendations:
Bell sleeve blouse with cuff sprouting from under the edge of a business suit cuff. Edgy. Add pearls and call it an empowering workday.
Add the 'very-in' pantsuits with a wide leg. Sport the "in color of fall" of a red and purple blend or animal print blouse. Spot on for saying "I'm current."
Crisp white flipped up collar shirt or turtleneck sweater under the in style long car length blazer/coat (casual Friday) with slim leg pants.
A rectangle velvet scarf with a business pantsuit. Blend of conservative and edgy.
A wide belt over a business suit (wearing a silk tee under suit).
Velvet pumps with a three inch or less heel in either dark navy, black or brown. Also current is a black shoe with a pearl embellishment. Wear either with a business suit.
Add attitude and confidence to complete your look!"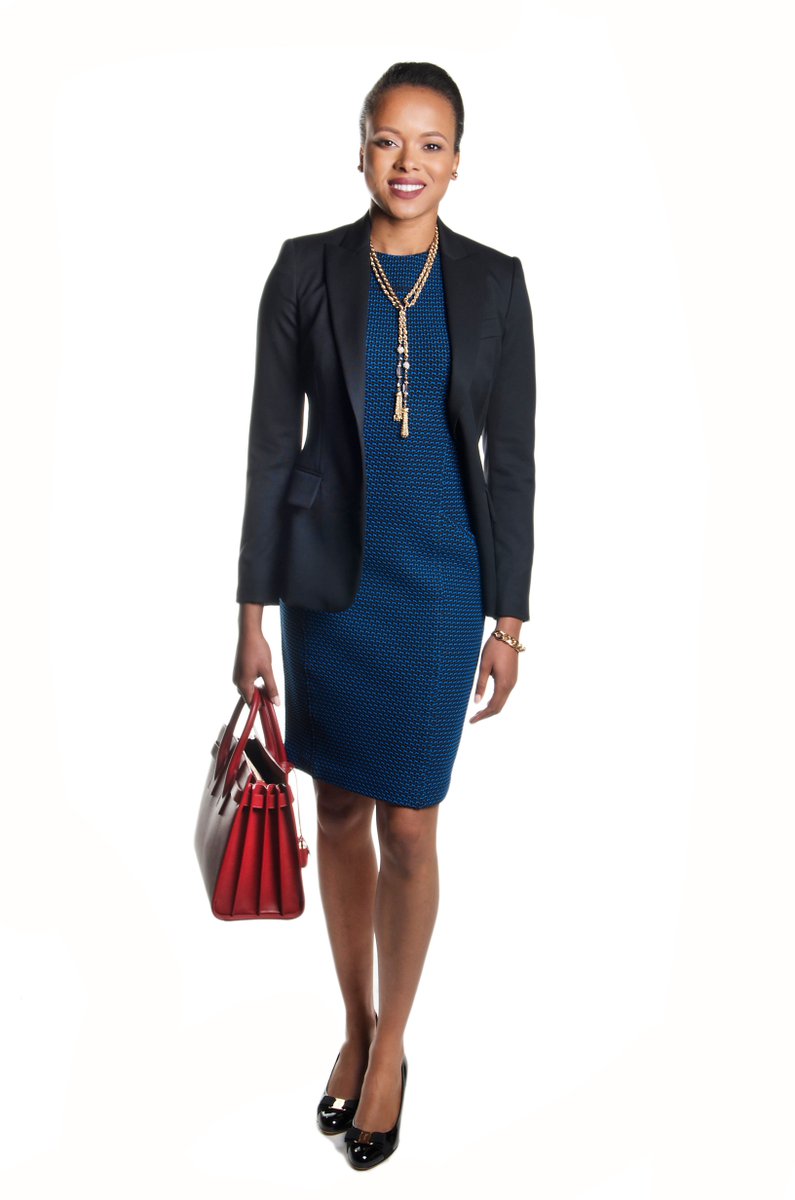 Fashion images styled by Nicole Carter @Medusasantidote
Images courtesy of : MarjaNorris.com 
Asia Hamilton Photography | Photo Sensei www.asiahamilton.photography
---